Browse the Best Deals on Popilush Black Friday Shapewear 2023
Still don't know what to buy this Black Friday? Or have you received so many catalogs that you are in doubt? Don't worry, this indecision is easily resolved if you think about investing in a quality piece like a shapewear dress black friday.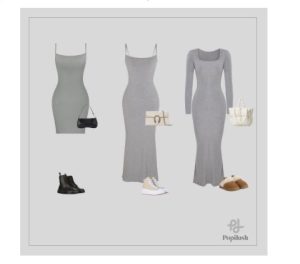 With this article you can look for the best offers on Popilush Black Friday Shapewear 2023. So, check out some new arrivals and add those to your cart that will make it easier for you to dress for everyday life.
1-

Built-In Shaper Modal Lounge Dresses
The dresses with a modal aspect have highly elastic, soft and comfortable fabric in contact with the body. They apply light compression, promoting the ideal fit without squeezing. Therefore, it has a modeling body underneath that defines your curves in a natural way without any type of seam or visible marking. Promotes breast support through the built-in bra with removable cups. It is available in three styles:
3.
Long Sleeve Maxi Dress
The waist is constructed into a perfect hourglass shape through double-layer waist control. The highly stretchy tulle cutout also helps to amplify the effect of a slimmer appearance. The butt takes shape through lifting technology that is responsible for creating the BBL effect. Available in sizes S-3XL.
2-

Contour Long Sleeve Square Neck Bodysuit
You must choose the best bodysuit for your daily activities. This model is practical and matches any type of pants or skirt. Have you ever thought about creating some combinations using layering to go to work? It looks beautiful too!
It has elegant long sleeves and a square neckline that gives a beautiful shape to the bust area. In addition, it provides great support for this region through the braless style with cups that can be removed. The thong detail makes your look lighter and the buckle closure helps when you need to pee. Available in sizes S-3XL.
3- Seamless Square Neck Sport Jumpsuit Or Romper
A jumpsuit is a unique piece that can be worn in many ways. But I recommend that you take the opportunity to enhance your more sporting side. Choosing the correct clothing can influence the success of your sporting results. It's modern, seamless, so it doesn't bother you with visible marking lines. It has a square collar that delivers a modern, simple shape and also suits the beach and the club.
It is available in three styles:
It is made from 94% Nylon + 6% Spandex fabric with high elasticity so it adapts perfectly to many body styles. Additionally, a shapewear jumpsuit provides medium to light compression that shapes the tummy, lifts the butt and creates a beautiful hourglass shape.
It is possible to take advantage of the reduction in muscle vibrations by supporting the muscles located on the top of the leg. It has a built-in bra, made of double-layer fabric with removable pads. Available in sizes S-XXL.
Salam Sugar ♥